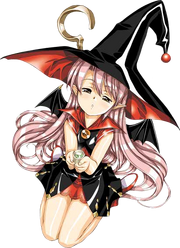 D-RM (D-LM型, D-RM?) is a character from Growlanser IV: Wayfarer of Time.
Background
Edit
A human-figured familiar to serve the hero. Somewhat childlike, a warm and snug peculiar atmosphere is RM type's characteristic. She gives a calm impresson but as for abilities, she compares favorably to the other types.She is somewhat dressed like a witch.
She is one of the many familiars available for the player to create.