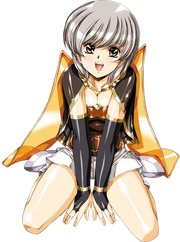 "Waiting here won't do any good, master... Let's go somewhere else."
—D-PT, Growlanser IV: Wayfarer of Time
D-PT (D-TP型, D-PT?) is a character from Growlanser IV: Wayfarer of Time.
Background
Edit
A more energetic, happy and supportive familiar could not be asked for. She helps support Crevanille by maintaining a positive attitude no matter the situation.
She is one of the many familiars available for the player to create.
Her character design was modeled after Tippi, a familiar from Growlanser.
Ad blocker interference detected!
Wikia is a free-to-use site that makes money from advertising. We have a modified experience for viewers using ad blockers

Wikia is not accessible if you've made further modifications. Remove the custom ad blocker rule(s) and the page will load as expected.